Platforma 2. Zbornik študentk in študentov Podiplomske šole ZRC SAZU
Platforma 2 je znanstveni zbornik, v katerem študentke in študentje Podiplomske šole ZRC SAZU predstavljajo svoje tekoče delo in rezultate dosedanjih raziskav. Zbornik združuje prispevke z najrazličnejših področij humanistike in družboslovja, ki izhajajo iz širokega spektra raziskovalnih vprašanj.
Chapters
Introduction

Label Incorrectly in the Dictionary of Standard Slovenian

Perrault's Bluebeard and Angela Carter's Bloody Chamber: From Patriarchal Narrative To Subversive Feminist Revision?

Zuleikha and Artyom, Literary Characters of Post-Soviet Fiction: An Attempted Comparison

From the Experience of Intersubjective Time to the Experience of Maternal Empathy

Mechanisms of Alleviation and Realization of Real Change in the World

Thinking the Model of Science: The Problem of Undecidability in the Real
Downloads
Download data is not yet available.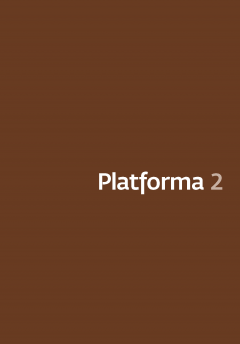 Downloads
Copyright (c) 2020 authors and ZRC SAZU
Details about the available publication format: Knjiga/Book
ISBN-13 (15)
978-961-05-0484-9
Physical Dimensions
148 mm x 210 mm
Paperback