Družinsko in gensko ozadje škofa Slomška. Od hudiča do časti oltarja
Blessed Bishop Anton Martin Slomšek (1800–1862), a writer, poet, educationalist, and national awakener, is one of the rare figures in Slovenian history with their surname derived from the name of their native town—Slom near Ponikva. As the research into all the branches of Slomšek's ancestry has shown, the bishop had highly diverse social roots. On his maternal side, he descended from the class of small farmers, whereas his paternal ancestry was from the rank of privileged serfs. At the end of the seventeenth century, Slomšek's great-grandfather, a well-to-do farmer from the neighbourhood, bearing the surnames Novak and Hudič (meaning "the Devil"), moved to Slom, where he became a farm holder and took on the surname Slomšek. His son Štefan consolidated the ownership of all unfree holdings in Slom, built the branch Church of St. Oswald, and fathered two sons, later to become priests. His grandson, the bishop's grandfather, moved to the Šalek Valley, whence his son Marko, the bishop's father, returned to Slom. The volume ('Bishop Slomšek's family and genetic background: from the devil to the altar of sanctity') presents a series of new findings regarding the bishop's social environment and ancestry as well as corrects the errors made by previous genealogists.
Downloads
Download data is not yet available.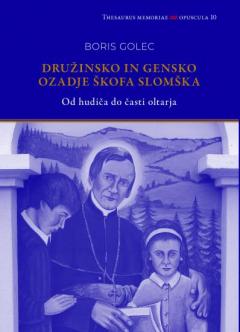 Downloads
Copyright (c) 2023 authors and ZRC SAZU
License
This work is licensed under a Creative Commons Attribution-NonCommercial-NoDerivatives 4.0 International License.
Details about the available publication format: PDF
ISBN-13 (15)
978-961-05-0778-9
Publication date (01)
27.10.2023
Details about the available publication format: Knjiga/Book
ISBN-13 (15)
978-961-05-0777-2
Date of first publication (11)
02.11.2023
Physical Dimensions
170 mm x 235 mm
Paperback