Fra Josip Markušić, Josip (Jože) Plečnik. Korespodencija 1932.-1956.
The correspondence between the architect Jože Plečnik (1872–1957) and Bosnian Franciscan friar fra Josip Markušič (1880–1968) is of utmost importance for the research of Plečnik's oeuvre. Plečnik met Markušić, who was one of the most notable members of Franciscan order in the province Bosnia Srebrena, for the first time during the construction of St. Anthony of Padua church in Belgrade. Their correspondence contains 800 units (letters, postcards) and covers a wide time span between 1932 and 1956.
The critical source edition, written by the historian Jozo Džambo, PhD, and art historian Damjan Prelovšek, PhD, undoubtedly represents an important source of understanding Plečnik's ecclesiastical oeuvre, furthermore it brings various information on religious life in Slovenia, Bosnia and Herzegovina as well as other parts of former Yugoslavia. The publication of correspondence between Plečnik and Markušić is of a great importance for every researcher of art, ecclesiastical, social and political history on the territory of former Yugoslavia.
Co-published with Franjevački samostan sv. Luke (Jajce), Synopsis (Zagreb/Sarajevo), Franjevački samostan sv. Ante (Beograd).
Downloads
Download data is not yet available.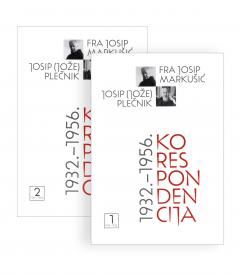 Downloads
Copyright (c) 2023 authors and ZRC SAZU
License
This work is licensed under a Creative Commons Attribution-NonCommercial-NoDerivatives 4.0 International License.
Details about the available publication format: PDF
Publication date (01)
15.11.2023
Details about the available publication format: Knjiga/Book
ISBN-13 (15)
978-961-05-0733-8
Co-publisher's ISBN-13 (24)
978-953-8289-57-6
Date of first publication (11)
19.06.2023
Physical Dimensions
175 mm x 245 mm
Hardback