Middle Miocene Calcareous Nannoplankton of NE Slovenia (Western Central Paratethys)
The monograph presents Badenian calcareous nannoplankton from NE Slovenia. Several hundred samples from 22 measured sections have been studied. In total, 109 species of calcareous nannoplankton are determined and described, many of which are new to Slovenia. The entire interval studied was assigned to the Middle Miocene. The excellent preservation and high species diversity enabled a precise subdivision of this interval into 6 successive interval zones, correlated with the absolute time scale (15.5 – 13.1 Ma) and with the 3rd order eustatic cycles (TB2.3, TB2.4 and TB2.5). Lists of all examined nannoplankton assemblages and their paleoecological analyses are also included. The monograph is a comprehensive review of the taxonomy, biostratigraphy and paleoecology of Miocene calcareous nannoplankton in the western part of the Central Paratethys.
Downloads
Download data is not yet available.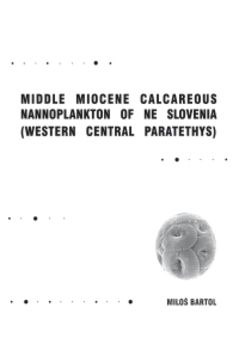 Downloads
Copyright (c) 2009 authors and ZRC SAZU
Details about the available publication format: PDF
ISBN-13 (15)
978-961-254-559-8
Details about the available publication format: Knjiga/Book
ISBN-13 (15)
978-961-254-149-1
Physical Dimensions
210 mm x 295 mm
Paperback