Prostorski in regionalni razvoj Sredozemlja. Enotni pristop in izbrana orodja
This book ('Spatial and regional development of the Mediterranean: A unified approach and selected tools') discusses the main development challenges and factors influencing the attainment of territorial cohesion and competitiveness of Mediterranean regions. In addition to the main physical and socio-geographic features, it summarizes some of the results of the transnational project OTREMED (Tool for the Territorial Strategy of the MED Space). The methodology for developing a uniform approach to spatial and regional planning in the Mediterranean macroregion – or a tool for uniformly monitoring the area's development challenges – has been developed as part of this project. This tool is based on selected development factors and indicators, which are presented in greater detail for the Mediterranean part of Slovenia.
Downloads
Download data is not yet available.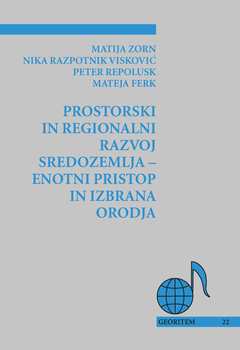 Downloads
Copyright (c) 2013 authors and ZRC SAZU
Details about the available publication format: PDF
ISBN-13 (15)
978-961-05-0351-4
Details about the available publication format: Knjiga/Book
ISBN-13 (15)
978-961-254-649-6
Physical Dimensions
145 mm x 205 mm
Paperback