Studia Praehistorica in Honorem Janez Dular
The book includes original scientific papers discussing the prehistoric themes of the southeastern Alpine and neighbouring regions by Slovenian and other authors, in which the results of new discoveries and researches in the individual regions, specific environments and analyses of individual sites or finds are presented.
These articles are arranged chronologically and thematically. They shed light on the settlement pattern at the macro and micro levels (Šavel; Velušček/Čufar; Mele; Mlekuž/Črešnar; Mason), grave contexts (Ložnjak Dizdar, Gutjahr; Kmet'ová/Stegmann-Rajtár; Križ; Teržan; Dizdar/Potrebica; Cestnik; Belak), data recorded in archival sources (Grahek; Božič) or special finds (Hellmuth; Mihovilić; Turk; Gleirscher; Kerman, Preložník, Tecco Hvala, Pavlin) and structures (Svoljšak, Guštin). The aforementioned contributions bring new insights into cultural contacts and connections, the social structure, craft activities and centres, grave rituals and worship in the Bronze and Iron Ages. They are based on modern analyses, and new evaluations, contain a scientific apparatus and rich illustrative materials, plans, distribution maps, tables and graphs. Slovenian and English abstracts are included, as well as translated summaries or full-text translations. The book is dedicated to an accomplished Slovenian researcher of the Bronze and Iron Age, who is celebrating 65th anniversary. His research work is presented in the introduction along with selected personal bibliography.
Downloads
Download data is not yet available.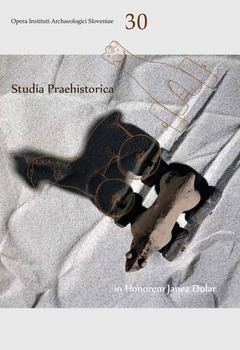 Downloads
Copyright (c) 2014 authors and ZRC SAZU
Details about the available publication format: PDF
ISBN-13 (15)
978-961-05-0365-1
Details about the available publication format: Knjiga/Book
ISBN-13 (15)
978-961-254-702-8
Physical Dimensions
210 mm x 295 mm
Hardback