Srednjeveške računske knjige za Slovenijo 1. Deželnoknežji obračuni za Kranjsko 1436–1448 / Landesfürstliche abrechnungen für Krain 1436–1448
The first Habsburg estates in Carniola were part of territorial acquisitions in eastern Alpine lands that the ascending dynasty obtained in the war with King Ottokar II of Bohemia towards the end of the thirteenth century and then gradually expanded. Even though the Habsburg dynastic territory had by the 1380s covered almost the entire Carniola, the economic base (landed property, which provided the provincial prince with regular income) was considerably limited. A sizeable portion of the territory was burdened by fiefs and pledges. The redemption of one of the vastest sets of pledged estates in the mid-1430s led to the emergence of account books for the following Carniolan fiscal properties: Kamnik, Gamberk, Goričane, Ig, Višnja Gora, Štatenberk, Novo mesto, Kostanjevica with offices Raka and Vivodina, Pazin, Završje, and Vranja. The account books serve as an extraordinary source for the economic history of the late Middle Ages, by also reflecting the turbulent period of the Habsburg European-wide ascendancy and Frederick's war with the Counts of Celje. The volume constitutes a critical edition of the account books, with the accompanying discussion in the field of property, administrative and political history.
Downloads
Download data is not yet available.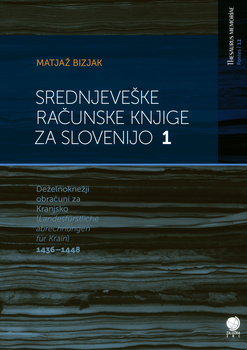 Downloads
Copyright (c) 2020 authors and ZRC SAZU
Details about the available publication format: PDF
ISBN-13 (15)
978-961-05-0424-5
Physical Dimensions
200 mm x 280 mm
Paperback
Details about the available publication format: Knjiga/Book
ISBN-13 (15)
978-961-254-948-0
Date of first publication (11)
26.10.2016