Prostori slovenske književnosti
In this book (' The Spaces of Slovenian Literature'), a team of researchers from the ZRC SAZU and the Faculty of Arts in Ljubljana led by Marko Juvan develops a new discipline, which is formed at the intersection between the analysis of the literary system and geography and relies on geographic information systems. Based on the spatial humanities approach presented in the introductory chapters, the following analyses, thematic maps and graphs try to explain how the "national space" was formed both ideologically and materially due to the interaction between geographical factors and literary practices in Slovenian from 1780 to 1940. The argument is based on spatial statistical analysis of data sets of biographies of literary actors, development of the press, publishing, literary clubs and theaters, the places represented in historical novels, and a constellation of memorial objects and designations dedicated to Slovenian writers. Systemic treatment is supplemented with discussions on the depicted and living spaces of selected writers from the 17th to the 21st century.
Downloads
Download data is not yet available.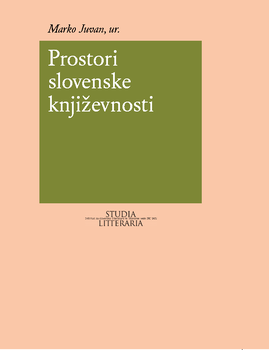 Downloads
Copyright (c) 2020 authors and ZRC SAZU
Details about the available publication format: PDF
ISBN-13 (15)
978-961-05-0411-5
Details about the available publication format: Knjiga/Book
ISBN-13 (15)
978-961-254-866-7
Date of first publication (11)
09.02.2016