Ne tu, ne tam. Srbi v Beli krajini in njihova jezikovna ideologija v procesu zamenjave jezika
The Serbs of Bela Krajina are one of the numerous local ethnolinguistic communities in Slovenia which are undergoing – as a consequence of major changes in their way of life emanating from the processes of modernisation and industrialisation, as well as due to changes in broader power relations – a process of language shift. This study was written with the aim of pointing out the significance and implications of the process of language shift both in the particular social, historic, and geographical context, as well as with regard to broader social processes. It simultaneously highlights the fact that the process of language shift employs the whole range of linguistic means.
The process of language shift among the Serbs of Bela Krajina was approached from the perspective of language ideology, with a focus on language as one of the essential components of individual and group identity. These processes reveal the complex dynamics of social and linguistic changes and their interconnectedness, and show how deep the link is between the state-national and the local, between broader social processes and the ways in which local communities and their particular members rationalise, negotiate and justify their positions, roles, and strategies.
Downloads
Download data is not yet available.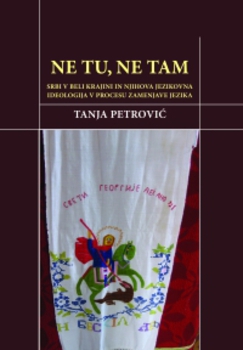 Downloads
Copyright (c) 2006 authors and ZRC SAZU
Details about the available publication format: PDF
Date of first publication (11)
15.09.2020
Details about the available publication format: Knjiga/Book
ISBN-13 (15)
961-6568-53-1
Date of first publication (11)
16.08.2006
Physical Dimensions
110 mm x 180 mm
Paperback