Urbanistični terminološki slovar
Urbanistični terminološki slovar prikazuje pojmovni svet slovenskega urbanizma, ki je povezan z različnimi strokami. To odraža tudi slovar, saj ob ozko urbanističnem vsebuje tudi izrazje arhitekture, demografije, ekonomije, geografije, informatike, krajinske arhitekture, sociologije ipd. Področja rabe niso posebej označena, slovar pa vsebuje 2150 strokovnih izrazov in 1933 angleških ustreznikov. Upoštevani so tisti ustrezniki, ki se uporabljajo v mednarodni komunikaciji. Tisti, ki so bili prevedeni za slovar, pa so označeni z zvezdico (*). Izrazje je bilo izbrano iz strokovne literature. Slovar je namenjen urbanistom in strokovnjakom z urbanizmom povezanih strok, študentom, predavateljem na fakultetah, strokovnim delavcem na ministrstvih, upravnih enotah, v občinskih upravah in vsem, ki jih zanima to področje.
Novembra 2017 so slovarju podelili priznanje Maksa Fabianija.
Sozaložnik Urbanistični inštitut Republike Slovenije.
Downloads
Download data is not yet available.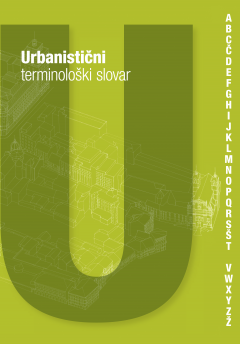 Downloads
Copyright (c) 2022 authors and ZRC SAZU
License
This work is licensed under a Creative Commons Attribution-NonCommercial-NoDerivatives 4.0 International License.
Details about the available publication format: PDF
Publication date (01)
02.12.2022
Details about the available publication format: Knjiga/Book
ISBN-13 (15)
978-961-6390-45-3 UIRS
Co-publisher's ISBN-13 (24)
978-961-254-874-2 ZRC SAZU
Date of first publication (11)
04.03.2016
Physical Dimensions
170 mm x 240 mm
Hardback
Details about the available publication format: Terminologišče (HTML)
ISBN-13 (15)
978-961-254-943-5
Publication date (01)
30.09.2016