Urbarji briksenske škofije (1253–1464) / Die Urbare des Hochstifts Brixen (1253–1464)
The book is a text-critical edition of Brixen urbaria for the diocesan estates in Upper Carniola (Bled seigniory) with a comprehensive scholarly commentary and concise presentation of the historical development of the Bled seigniory throughout the Middle Ages. The published sources, offering a rich insight into the property, economic and social conditions of the Middle Ages, belong to the earliest accounts relating to agrarian economy and land property in the Slovenian territory and have, as such, long attracted the interest of the historian profession. This publication, having already been planned decades ago by renown Slovenian historians such as Milko Kos and Pavle Blaznik, naturally completes a series of publications of urbaria for the complexes of ecclesiastical (diocesan) land estates in the territory of Slovenia.
Downloads
Download data is not yet available.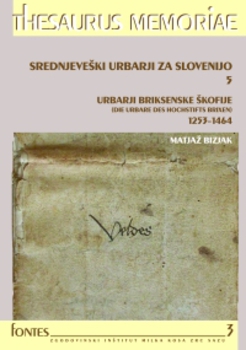 Downloads
Copyright (c) 2006 authors and ZRC SAZU
Details about the available publication format: PDF
Publication date (01)
23.12.2020
Details about the available publication format: Knjiga/Book
ISBN-13 (15)
961-6568-43-4
Date of first publication (11)
04.08.2006
Physical Dimensions
200 mm x 280 mm
Hardback