Pravopisna stikanja. Razprave o pravopisnih vprašanjih
The purpose of the treatise is to present arguments for supplementing and changing orthographic rules and, at the same time, for confirming their adequacy. It is particularly questions on language use raised in public that draw attention to flaws in existing rules, to problems with interpreting them and to new, not yet recorded uses. The treatise comprises findings of 18 authors.
Chapters
Front/Back

In the search of consensus ...

Orthographic Norm versus the Norms of other Sciences and Fields of Human Activity

Spelling Product Names and Brand Names

Spelling Adjectives in -ov, -ev, and -in Derived from Proper Names

Capitalization in Prepositional Proper Names

The Patterns of Orthographic Adaptation of Recently Borrowed Words in Slovene

The Phonological Adaptation of Proper Names from Languages With Non-Latin Writings

Endings in Foreign Masculine Proper Names from European Languages in Latin Writing

The English Mute -e in Prescriptive Slovene Orthography

Distinguishing Between Phrases and Compounds in Contemporary Language Material

Modern Slovene Lexis in the Light of the Treatment of Noun Compounds in the Slovene Normative Guide 2001

Writing Headwords As One Word or Two Words in the Dictionary of Modern Lexis in Slovene

Punctuation Marks and Other Written Symbols in Electronic Texts

The Normative Treatment of Appositions

The Informativeness of the Orthographic Rules on Three Dots (Ellipsis)

A Corpus Analysis of the Morphological Extension in Masculine Nouns in -o

Slovene Orthography and Its False Prophets

Dangerous Liaisons Between Spoken and Written Language

Terminology in the Slovene Normative Guide

On Names for Inhabitants and Adjectives Derived from Slovene Place Names
Downloads
Download data is not yet available.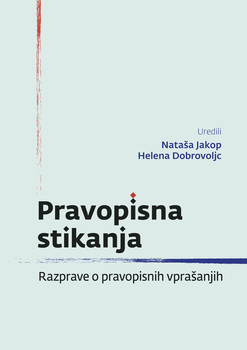 Downloads
Copyright (c) 2012 authors and ZRC SAZU
Details about the available publication format: PDF
Publication date (01)
31.05.2020
Details about the available publication format: Knjiga/Book
ISBN-13 (15)
978-961-254-389-1
Publication date (01)
27.10.2012
Physical Dimensions
170 mm x 240 mm
Paperback