Zgodovina historične misli. Tretja izdaja
The third, online Slovenian edition of the History of Historiographic Thought combines all the original texts of the first (2006) and second (2016) editions as well as some new ones. It is an answer to the specific needs of the community of readers, especially teachers and students of history and related sciences. The book covers over two and a half millennia long history of the evolution of historiography since its earliest beginnings; new (and in some cases old) translations of selected chapters of the major works of Western historical thought, accompanying chapters and biographical sketches form an outline of the development of historiography in Greek and Roman antiquity (including some basic texts of non-historians), a comprehensive review of medieval authors with special emphasis on the Byzantine and Renaissance historiography, followed by a thoughtful selection of early and modern authors. The excerpts from their most influential reflections on the meanings of historiography define the historiography of the Enlightenment, confronts the national and positivist interpretations of the past, presents sources of the so-called new historiography and assesses the impact of postmodernism on the development of past ten years in historiography and the creation of a new cultural history, which inaugurated the 21st century.
Chapters
Kolofon

PREDGOVOR (2019)

PREDGOVOR (2016)

PREAMBULA … DRUGIČ

KULTURA IN POLITIKA SPOMINA

1. MITIČNI ZAČETKI ZGODOVINOPISJA

2. ARHAJSKO IN KLASIČNO ZGODOVINOPISJE

3. POMEN FILOZOFOV IN GOVORNIKOV ZA ZGODOVINOPISJE

4. ZGODOVINOPISJE 4. STOLETJA IN HELENISTIČNE DOBE

5. ZAČETKI RIMSKEGA ZGODOVINOPISJA

6. GRŠKI ZGODOVINARJI IN GEOGRAFI RIMSKEGA OBDOBJA

7. RIMSKI ZGODOVINARJI IZ ČASA PRINCIPATA

8. BIOGRAFIJA IN BIOGRAFSKO ZGODOVINOPISJE

9. POZNORIMSKO IN POZNOANTIČNO ZGODOVINOPISJE

10. ZGODOVINOPISJE SREDNJEGA VEKA

11. RENESANSA

12. STUDIUM HISTORIAE NA PRAGU MODERNE DOBE

13. RAZSVETLJENSKI KONCEPT ZGODOVINOPISJA

14. PO ZGLEDU LITERATURE

15. ZGODOVINA – ZNANOST O NARODIH

16. MODERNO ZGODOVINOPISJE

17. »NOVA ZGODOVINA«

18. OBJEKTIVNOST ZGODOVINE V OČEH SEVERNOAMERIŠKIH ZGODOVINARJEV

19. ZGODOVINOPISJE VISOKE MODERNE

20. NOVA KULTURNA ZGODOVINA ALI HISTORIČNA ANTROPOLOGIJA!?

21. NAMESTO ZAKLJUČKA

LITERATURA
Downloads
Download data is not yet available.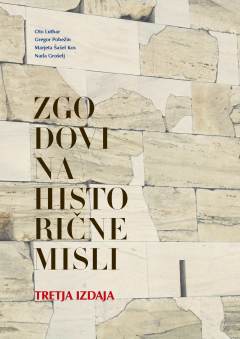 Downloads
Copyright (c) 2019 authors and ZRC SAZU
Details about the available publication format: HTML
ISBN-13 (15)
978-961-05-0238-8