Slovensko izseljenstvo v luči otroške izkušnje. Druga, razširjena izdaja
Childhood in Slovenian emigration context is one of the least researched topics within Slovenian migration studies. The book ('Slovenian emigration in the light of children's experience') tries to shed light upon it from the angles of different disciplines. Drawing on various definitions of children and categories of children in connection with migration, presented in the first chapter, the authors were mainly interested in those aspects that have been more or less neglected in the past. The second part of the book thus examines childhood in emigration context as it can be observed in the literary works and various websites created by Slovenian emigrants and their descendants. The third part of the book focuses on some specific migrant situations. The authors of these chapters have examined some intimate aspects of migrant experience of children of the so-called Alexandrian Women, children involved in forced migration during the Second World War, and children of diplomats. The fourth part of the book discusses the Yugoslav public care for the children in Slovenian diaspora between the World Wars, migration of children within the Yugoslav area, and the care for the children of Slovenian descent in Bosnia and Herzegovina in terms of their learning and preservation of Slovenian language. A methodological junction of the different disciplinary and authors' research approaches used in individual chapters consists in the common attempt to subjectivize the "object" of the research, primarily by taking into account a heterogeneous multitude of personal testimonies.
Downloads
Download data is not yet available.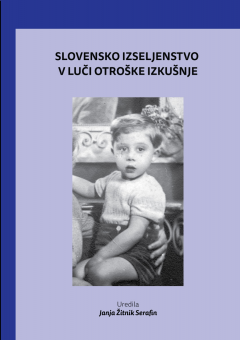 Downloads
Copyright (c) 2015 authors and ZRC SAZU
Details about the available publication format: PDF
ISBN-13 (15)
978-961-254-846-9
Details about the available publication format: Knjiga/Book
Physical Dimensions
150 mm x 210 mm
Paperback
Details about the available publication format: Biblos (epub)
ISBN-13 (15)
978-961-05-0185-5
Publication date (01)
17.07.2019