Manjša rimska naselja na slovenskem prostoru / Minor Roman settlements in Slovenia
The book discusses the minor settlements that dotted the territory of present-day Slovenia in the Roman period. This geographically diverse territory was crossed by important lines of communication and divided between three large administrative units of the Roman state: Italy and the provinces of Noricum and Upper Pannonia. Twenty-six authors wrote contributions on individual settlements in a comprehensive and clear manner roughly following a common concept. The presentation of each settlement opens with its location and name in Antiquity, possible habitation traces from prehistory, mentions in ancient literary texts and documents, and recovered epigraphic evidence. The next, main part offers an overview of the archaeological remains from the Roman period: topography, infrastructure, buildings, cemeteries and portable remains of particular significance. This is followed by the information on the status of a settlement, social standing of its inhabitants, their administrative or military functions, as well as professional or ethnical background. All is brought together in an outline of the historical development of each settlement.
Chapters
PREDGOVOR / PREFACE

FLUVIO FRIGIDO, CASTRA – AJDOVŠČINA

FLUVIO FRIGIDO, CASTRA – AJDOVŠČINA

Raziskave / Investigations 2017–2019

AD PIRUM − HRUŠICA

LONGATICUM – LOGATEC

NAUPORTUS − VRHNIKA

VIPAVA

GRADIŠČE NAD KNEŽAKOM

Ulaka

IG

MENGEŠ

CARNIUM – KRANJ

ŠMARTNO PRI CERKLJAH

BLAGOVICA

ATRANS – TROJANE

ŠEMPETER V SAVINJSKI DOLINI

COLATIO – STARI TRG PRI SLOVENJ GRADCU

ZAGRAD

SLOVENSKA BISTRICA

ANČNIKOVO GRADIŠČE

PRAETORIUM LATOBICORUM – TREBNJE

ROMULA – RIBNICA

PRIMERJALNI PREGLED MANJŠIH RIMSKIH NASELIJ / MINOR ROMAN SETTLEMENTS – COMPARATIVE OVERVIEW
Downloads
Download data is not yet available.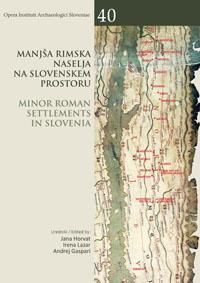 Downloads
Copyright (c) 2020 authors and ZRC SAZU
Details about the available publication format: PDF
ISBN-13 (15)
978-961-05-0258-6
Details about the available publication format: Knjiga/Book
ISBN-13 (15)
978-961-05-0257-9
Physical Dimensions
200 mm x 290 mm
Hardback