Umetnost za turizem / Art for Tourism. Predstavitev projekta, njegovih rezultatov in smernice za oblikovanje turističnih produktov / Presentation of the Project, Its Results and Guidelines for Tourist Product Design
The publication is the result of the 3-year applicable research project Art for Tourism. Art-Historical Contents as the Foundation of the Sustainable Tourism Development in Eastern Slovenia carried out between 1st April 2019 and 31st March 2022. The first part presents aims, goals and long-term effects of the project, which was carried out together with a research organization (ZRC SAZU, France Stele Institute of Art History) and tourism economy (Tourist agency Sajko turizem, d.o.o.). Next the main results of the project are presented – the 4 itineraries or tourist products that were designed. Two of the itineraries that have been implemented as pilot projects are presented in detail. The Bartholomew's Route is submitted as an example of good practice concerning the application of product to local environment. The publication also provides guidelines for significant agents in the tourism sector about designing quality and innovative cultural tourist products that are sustainable and rich in contents. The last part of the publication lists other results of the project like scientific and research articles, monograph publications, lectures and presentations, guided tours, workshops and dissemination in the educational process.
Downloads
Download data is not yet available.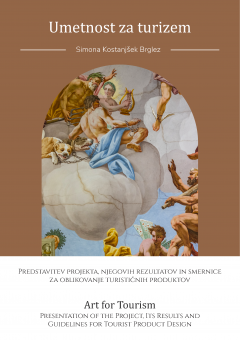 Downloads
Copyright (c) 2022 authors and ZRC SAZU
Details about the available publication format: PDF
ISBN-13 (15)
978-961-05-0627-0
Publication date (01)
17.03.2022
Details about the available publication format: Knjiga/Book
ISBN-13 (15)
978-961-05-0626-3
Date of first publication (11)
29.03.2022
Physical Dimensions
148 mm x 210 mm
Paperback