Glasovne in naglasne značilnosti terskega narečja
The book features an areal study of phonetic and accentual features of the Tersko dialect of Slovene, spoken in the western part of the region Beneška Slovenija/Slavia Veneta. The rich dialect data of the hitherto understudied dialect includes words of many parts-of-speech and inflectional paradigms, gathered via field research during the years 2014–2018 in ten localities: Ter/Pradielis, Zavarh/Villanova delle Grotte, Viškorša/Monteaperta, Tipana/Taipana, Plestišča/Platischis, Porčinj/Porzus, Prosnid/Prossenicco, Čanebola/Canebola, Mažerole/Masarolis and Breginj. Through analysis of the dialect material, the author delivers an interpretation of the development of phonetic and accentual features in the studied dialectal idioms from Common Slovene to their contemporary states and identifies the features relevant for an internal differentiation of the dialect.
Downloads
Download data is not yet available.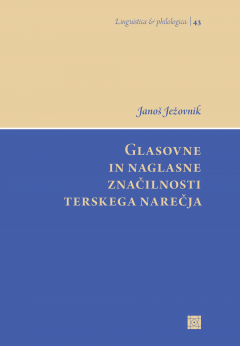 Downloads
Copyright (c) 2022 authors and ZRC SAZU
Details about the available publication format: PDF
ISBN-13 (15)
978-961-05-0643-0
Publication date (01)
05.06.2022
Details about the available publication format: Knjiga/Book
ISBN-13 (15)
978-961-05-0644-7
Date of first publication (11)
31.05.2022
Physical Dimensions
168 mm x 240 mm