Staroverstvo v Sloveniji med religijo in znanostjo
The book deals with an extraordinary socio-political and environmental-religious phenomenon. In Slovenia, in a special form of heterotopia, a social community preserved, at least until the middle of the 20th century, its political, legal, police and religious independence from the dominant Christian and state system. The authors examine the credibility of the narrative of this hidden society and search for its historical and spatial framework. Their belief system is clearly derived from Old Slavic and corresponds to the concept of primordial monotheism described by post-Christian theology. It is closely related to space, in which it materializes in the form of tripartite spatial structures called tročans. A physical experiment conducted shows that there is a very tangible probability that they regulated the negative effects of local earth magnetism and solar storms. In this way, the people designed the space that offered them more health and therefore a better chance of survival. This is an example of sustainable living. Its significance is becoming more important every day as the weather becomes more and more erratic.
Chapters
Front / Back

(In)authenticity of beliefs and practices in the material on the "Old Faith Believers of Posočje", comparisons and different worlds

Colonisation of the Middle Soča region

Socio-political aspects of western Slovenian nature worshippers' community

Elements of Slovenian Indigenous Religion

The Three Belins and their syncretisms in the oral tradition of Western Slovenia

Beliefs of the "Hoste" in the Context of Old Faith in Slovenia and the Faith of the Ancient Slavs

Influence of monoliths on the local magnetic field

Church as part of an Old Fait sanctuary
Downloads
Download data is not yet available.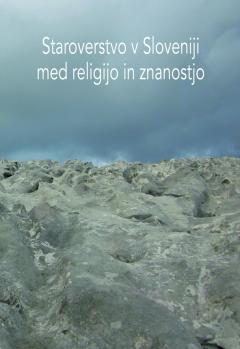 Downloads
Copyright (c) 2022 authors and ZRC SAZU
Details about the available publication format: PDF
ISBN-13 (15)
978-961-05-0658-4
Publication date (01)
07.07.2022
Details about the available publication format: Knjiga/Book
ISBN-13 (15)
978-961-05-0657-7
Date of first publication (11)
01.08.2022
Physical Dimensions
170 mm x 240 mm
Hardback