Social Impact in Arts and Culture. The Diverse Lives of a Concept
"Social impact" seems to be the buzzword of the past decade, a term dominant in art and science (of) project writing, but also in thinking and talking about art and science. However, apart from the principles of measurability and predictability of desired impact, there is lack of sources to clearly explain what the idea is all about: What kind of art and society and the relationship between them it envisions? The motivation for this book was the dynamic between social impact as defined by funders and as understood by the people who live with it. This book is therefore a collaborative effort of curators, critics, essayists, artists, and researchers. Some of them reflect on the concept, others write about their own practice, and still others discuss the issue in the context of practical examples. What they all have in common, however, is the question and reflection on what is meant by the social impact of art, how it can be achieved as well as problematized.
Copublished with Zavod Bunker.
Downloads
Download data is not yet available.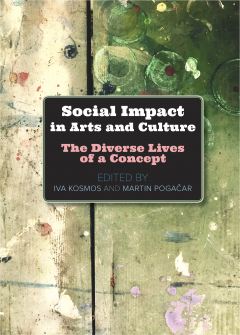 Downloads
Copyright (c) 2022 authors and ZRC SAZU
Details about the available publication format: PDF
ISBN-13 (15)
978-961-05-0655-3
Publication date (01)
07.09.2022
Details about the available publication format: Knjiga/Book
ISBN-13 (15)
978-961-05-0654-6
Date of first publication (11)
23.08.2022
Physical Dimensions
165 mm x 230 mm
Paperback