Spodbujanje razvoja obmejnih problemskih območij v Sloveniji
Because of their proximity to the border and their peripheral character compared to the rest of a country's territory, border areas are often poorly developed (title: 'Promoting the development of disadvantaged border areas in Slovenia'). Therefore, regional policy pays special attention to them. In Slovenia, this has been the case since 1975, with ninety municipalities currently designated as disadvantaged border areas. To facilitate their comprehensive development, the Slovenian government set up a program to promote their development that will connect and harmonize the efforts of all ministries in developing these areas. Designing this program relied on past experience in promoting poorly developed areas and, to make the program as comprehensive as possible, the following aspects were addressed: quality of living, economic development, access to services of general and economic interest, demographic changes, sustainable development and mobility, cross-border cooperation, and an overall developmental or systemic framework to promote the development of individual areas. The basic aim was to establish how to comprehensively promote border area development. To adapt the system for promoting border area development to the needs of individual municipalities as much as possible, a typology of these areas was first produced, which made it possible to compare them against one another and, most importantly, against other Slovenian municipalities. Second, questionnaires were produced for representatives of the municipalities and representatives of the border areas' residents.
Based on the respondents' feedback, thematic categories were defined in detail and examined through an indicator analysis. Finally, a selection was made, along with detailed descriptions, of measures that either together or individually could help improve the situation in disadvantaged border areas.
Downloads
Download data is not yet available.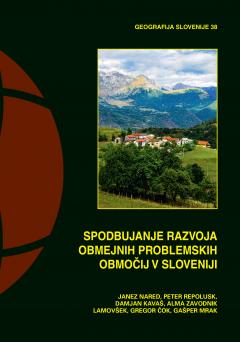 Downloads
Copyright (c) 2022 authors and ZRC SAZU
Details about the available publication format: PDF
ISBN-13 (15)
978-961-05-0671-3
Publication date (01)
28.09.2022
Details about the available publication format: Knjiga/Book
ISBN-13 (15)
978-961-05-0670-6
Date of first publication (11)
12.10.2022
Physical Dimensions
170 mm x 240 mm
Hardback