Grave Orientation In The Middle Ages. A Case Study from Bled Island
The aim of the book is to demonstrate the importance of grave orientation for the archaeology of Medieval death and burial. In doing this, two key points are emphasized.
First, grave orientation was an important, and in some cases the most important, conduit for the symbolic meaning of burials in the Middle Ages. Second, for an archaeologist to reconstruct this meaning, the analysis must be conducted with methodological rigour, and inferences must take the broader context into account.
To this end, the book addresses three interrelated issues. First, the state of scholarship on grave orientation studies; both in this case study and in the literature, the topic is intertwined with church orientation. Second, the methodology for analysing grave orientation; since the case study is based on old excavations, special attention is given to the reuse of the legacy data. Third, the Bled Island case study. Bled Island is an islet on Lake Bled (Slovenia) that has a special meaning for modern Slovenians and it held a special meaning for the local populations since prehistory.
It is thus not surprising that the two Medieval cemeteries and the church on the islet are imbued with symbolism. And much of this symbolism was expressed through the orientation of the individual graves, grave groups, and the church building.
The book, which is a substantially revised version of chapters 3-8 in the monograph Medieval archaeology of Bled Island (2020), is primarily aimed at researchers interested in the Middle Ages and the archaeology of death and burial. A wider range of archaeologists may find interest in the methodology of analysing archival ("old") excavations and other geocomputational methods used in the book.
Downloads
Download data is not yet available.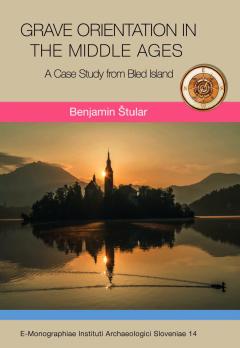 Copyright (c) 2022 authors and ZRC SAZU
License
This work is licensed under a Creative Commons Attribution-NonCommercial-ShareAlike 4.0 International License.
Details about the available publication format: PDF
ISBN-13 (15)
978-961-05-0633-1
Date of first publication (11)
03.11.2022