Iacobus Gallus: Opus musicum I/2. De nativitate, circumcisione et epiphania Domini
From the very beginning, one of the most important and ambitious goals of the MAMS collection has been publication of the collected works of Iacobus Handl-Gallus in a modern transcription tailored to the needs of contemporary performers. The publication of his famous collection of motets, Opus musicum, consisting of four books containing a total of 374 motets, partially achieved this goal in 1990. The transcriptions and critical commentaries were prepared by Edo Škulj, and Gallus's motets were published in thirteen volumes between 1985 and 1990. The edition is enriched by numerous facsimiles from Gallus's original prints, published between 1586 and 1590 by the Prague printer Georg Nigrin (Jiří Černý).
The second volume (I/2) consists of motets for 4 to 12 voices, many of them for two or three choirs. The motets are intended for the Christmas season running from the feasts of the Nativity and the Circumcision up to the Feast of the Annunciation, or Epiphany.
The 2022 digitized post-edition is accompanied by a new preface and an introductory study by Dr Marc Desmet that summarizes and compiles all recent findings about the composer and his work. Gallus divided the first book of his Opus musicum (1586) into three sections, which have been retained in the MAMS edition.
Chapters
Kolofon / Colophon

UVODNA BESEDILA / INTRODUCTORY TEXTS

Novi predgovor / New Foreword

Novi uvod / New Introduction

Revizijsko poročilo / Revision report

Faksimili / Facsimiles

Abecedno kazalo motetov / Motets in alphabetical order

SKLADBE / COMPOSITIONS

XXVII. Hodie nobis coelorum rex

XXVIII. Quem vidistis pastores dicite

XXIX. Dies est laetitiae

XXX. Quid admiramini

XXXI. Laudate Dominum in sanctis eius

XXXII. O magnum mysterium

XXXIII. O admirabile commercium

XXXIV. Beatus vir qui timet Dominum

XXXV. Cantate Domino canticum novum, laus eius

XXXVI. Laudate Dominum de coelis

XXXVII. Tribus miraculis ornatum diem

XXXVIII. Verbum caro factum est

XXXIX. Cantate Domino canticum novum, quia mirabilia

XL. Haec est dies quam fecit Dominus

XLI. Gaudeamus omnes fideles

XLII. Christum natum Dominum

XLIII. Facta est cum angelo multitudo

XLIV. Resonet in laudibus

XLV. Illuminare Ierusalem

XLVI. Hodie Christus natus est

XLVII. Vox de coelo sonuit

XLVIII. Stella quam viderant magi

XLIX. Notum fecit Dominus

L. Nesciens mater virgo

LI. Resonet in laudibus

LII. Venit lumen tuum Ierusalem

LIII. Geminavit radix Iesse

LIV. Mirabilie mysterium

LV. Omnes de Saba venient

LVI. Ante luciferum genitus

LVII. Regem natum angelus annunciavit

LVIII. Pueri concinnite

LIX. Resonet et laudibus

LX. Dies sanctificatus illuxit

LXI. Domus pudici pectoris

LXII. Ab oriente venerunt magi

LXIII. Dicunt infantes Domino laudes

LXIV. Natus est nobis Deus

PRILOGA / APPENDIX: COMPOSITIONS: Celotna izdaja / The Complete Editon (1985)
Downloads
Download data is not yet available.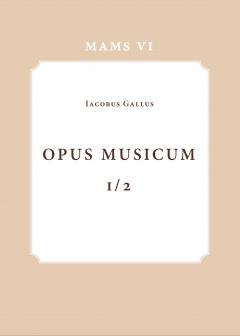 Downloads
Copyright (c) 1985 authors and ZRC SAZU
License
This work is licensed under a Creative Commons Attribution-NonCommercial-NoDerivatives 4.0 International License.
Details about the available publication format: PDF
ISMN-13 (25)
979-0-709004-41-6
Publication date (01)
28.03.2023
Details about the available publication format: Knjiga/Book
Date of first publication (11)
01.01.1985
Physical Dimensions
200 mm x 280 mm
Paperback