Opus musicum I/3. A dominica septuagesimae per quadragesimam de poenitentia
From the very beginning, one of the most important and ambitious goals of the MAMS collection has been publication of the collected works of Iacobus Handl-Gallus in a modern transcription tailored to the needs of contemporary performers. The publication of his famous collection of motets, Opus musicum, consisting of four books containing a total of 374 motets, partially achieved this goal in 1990. The transcriptions and critical commentaries were prepared by Edo Škulj, and Gallus's motets were published in thirteen volumes between 1985 and 1990. The edition is enriched by numerous facsimiles from Gallus's original prints, published between 1586 and 1590 by the Prague printer Georg Nigrin (Jiří Černý). Gallus divided the first book of his Opus musicum (1586) into three sections, which have been retained in the MAMS edition. The third volume (I/3) consists of 4-, 5-, 6- and 8-part motets for the pre-Lenten (Septuagesima) and Lenten (Quadragesima) seasons of the church year.
The 2023 digitized post-edition is accompanied by a new preface and an introductory study by Dr Marc Desmet that summarizes and compiles all recent findings about the composer and his work.
Chapters
Kolofon / Colophon

UVODNA BESEDILA / INTRODUCTORY TEXTS

Novi predgovor / New Foreword

Novi uvod / New Introduction

Revizijsko poročilo / Revision Report

Faksimili / Fascimiles

Abecedno kazalo motetov / Motets in Alhabetical Order

SKLADBE / COMPOSITIONS

LXV. Media vita in morte sumus

LXVI. Audi tellus, audi magni maris limbus

LXVII. Usquequo, Domine, oblivisceris me in finem

LXVIII. Converte, Domine, luctum nostrum in gaudium

LXIX. Pater noster, qui es in coeli

LXX. Ave Maria, gratia plena

LXXI. Salva nos, Domine, vigilantes

LXXII. Deus, iniqui insurrexerunt super me

LXXIII. Domine, ante te omne desiderium meum

LXXIV. Quid gloriaris in malitia

LXXV. Erravi sicut ovis, quae perii

LXXVI. Domine Iesu Christe, non sum dignus

LXXVII. Nos alium deum nescimus

LXXVIII. Lamentabatur Iacob de duobus filiis

LXXIX. Usquequo, Domine, irasceris in finem

LXXX. Locutus est Dominus ad Moysen, dicens

LXXXI. Fratres mei elongaverunt a me

LXXXII. Miserere mei, Deus, secundum magnam misericordiam

LXXXIII. In Domino speravit cor meum

LXXXIV. Domine, quando veneris iudicare

LXXXV. Patres, qui dormitis in Hebron

LXXXVI. O bone Deus, ne proiicias nos

LXXXVII. Eripe me de inimicis meis, Deus meus

LXXXVIII. Dominus mihi auditor

LXXXIX. Nolite confidere in principibus

XC. Peccantem me quotidie

XCI. Verbum iniquum et dolosum

XCII. O bone Iesu, illumina oculos meos

XCIII. In tribulatione mea invocavi Dominum

XCIV. Repleatur os meum laude tua

XCV. Versa est in luctum cithara mea

XCVI. Quoties diem illum considero

XCVII. Scio enim, quod redemptor meus vivit

XCVIII. Tribulationes civitatum audivimus

XCIX. In principio creavit Deus coelum et terram

C. Ad Dominum cum tribularer clamavi

CI. Adolescentulus sum ego et contemptus

CII. Deus, in adiutorium meum intende

CIII. In nomine Iesu omne genu flectatur

PRILOGA / APPENDIX: COMPOSITIONS: Celotna izdaja / The Complete Editon (1986)
Downloads
Download data is not yet available.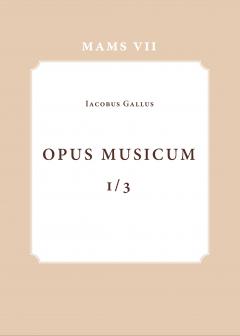 Downloads
Copyright (c) 1986 authors and ZRC SAZU
License
This work is licensed under a Creative Commons Attribution-NonCommercial-NoDerivatives 4.0 International License.
Details about the available publication format: PDF
ISMN-13 (25)
979-0-709004-42-3
Publication date (01)
29.03.2023
Details about the available publication format: Knjiga/Book
Date of first publication (11)
01.01.1986
Physical Dimensions
200 mm x 280 mm
Paperback