Materialni svet otroštva
The book examines a hitherto less studied area of the material culture of childhood from the beginning of the 20th century until the Second World War in Ljubljana and its surroundings. First, the basic concepts of the research are defined: material culture and childhood in synchronic and diachronic perspectives, and their relations are discussed. Then, the topic is examined in its temporal, spatial, and socio-economic context. The core of the book is an ethnological study, based on oral, written, and pictorial sources, of the food culture, clothing, housing, and play culture of the young inhabitants of Ljubljana in the first half of the 20th century. During this period, the child is supposed to have stepped out of the shadow of the adults and onto the social stage and experienced a long and secure childhood. However, research shows a discrepancy between the declarative and practical levels. Childhood, as envisioned by Ellen Key, who proclaimed the 20th century the Century of the Child, was lived by a few bourgeois children. The everyday life of the other children corresponds to the spirit of the opening words of the field narrative: "I had a good childhood. I had a good childhood because I made it myself." Childhood was supposed to be the value of the 20th century, but the citizens of Ljubljana did not recognize its value at that time.
Downloads
Download data is not yet available.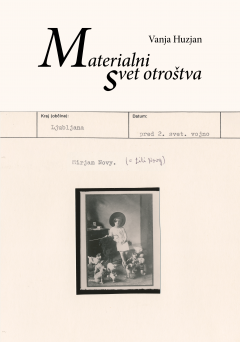 Downloads
Copyright (c) 2023 authors and ZRC SAZU
License
This work is licensed under a Creative Commons Attribution-NonCommercial-NoDerivatives 4.0 International License.
Details about the available publication format: PDF
ISBN-13 (15)
978-961-05-0731-4
Publication date (01)
13.04.2023
Details about the available publication format: Knjiga/Book
ISBN-13 (15)
978-961-05-0730-7
Date of first publication (11)
09.05.2023
Physical Dimensions
170 mm x 240 mm
Hardback