Between Ravenna and Constantinople. Rethinking Late Antique Settlement Patterns
The book presents the settlement in a period of European history (late 3rd to early 7th century) when the highly exposed areas between the Late Antique capitals in Ravenna and Constantinople underwent a radical transformation. The relentless pressure of barbarian populations from beyond the Roman limes resulted in political, military, economic and social changes that finally led to the decline of the former forms of human habitation. Cities in the continental parts were largely abandoned or continued in heavily reduced and ruralised skeletons of their former selves; only the urban centres along the coasts of the Mediterranean met a kinder fate. Other forms of lowland settlement, primarily the once prominent Roman villas, ceased to exist as early as the middle of the 5th century. The population began retreating to remote areas and naturally well-protected hilltop settlements of an autarchic character, where the achievements of the ancient civilisation were upheld to the late 6th century. Alongside these, there was a series of forts constructed under the Emperor Justinian, which show a carefully thought-out system defending the lines of communications between the two capitals. The book offers a comprehensive overview of the mass of characteristic cities, lowland hamlets and fortified settlements illustrated with plans, maps and photographs, but also an interpretation of the profound transformation of the settlement patterns.
Downloads
Download data is not yet available.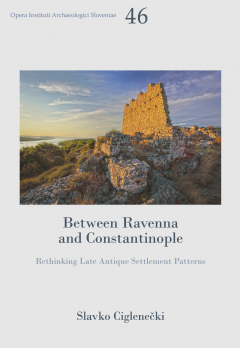 Downloads
Copyright (c) 2023 authors and ZRC SAZU
License
This work is licensed under a Creative Commons Attribution-NonCommercial-ShareAlike 4.0 International License.
Details about the available publication format: PDF
ISBN-13 (15)
978-961-05-0736-9
Publication date (01)
09.05.2023
Details about the available publication format: Knjiga/Book
ISBN-13 (15)
978-961-05-0735-2
Date of first publication (11)
18.05.2023
Physical Dimensions
200 mm x 290 mm
Hardback