Slovenci in cesarska cenzura od Jožefa II. do prve svetovne vojne / Slovenians and imperial censorship from Joseph II to the First World War. Katalog razstave v Narodni in univerzitetni knjižnici / Catalogue of the exhibition in the National and University Library
Censorship is an inexhaustible and eternally relevant topic. In the history of encounters between Slovenians and censorship, the period between the reign of Joseph II and the First World War, which brought about the end of the monarchy, was one of the most interesting and dynamic eras. During this period, which is almost symmetrically divided into two parts by the 1848 revolution, Slovenian secular literature was formed from the anthology Pisanice onwards, the first newspapers in Slovenian emerged, and the national movement was strengthened. Imperial censorship had a significant role in the shaping of all of these processes: until 1848, in the form of the dominant pre-censorship, which was instrumentalised by the police-censorship network of the notorious Vormärz duo Metternich-Sedlnitzky; after the March Revolution the dominant form was post-censorship, which mercilessly reined in problematic authors with the help of the judicial apparatus. The richly illustrated catalogue, prepared for the exhibition Slovenians and Imperial Censorship from Joseph II to the First World War (National and University Library, 25 May – 25 November 2023), was carefully designed to show the crucial role of censorship in shaping Slovenian literature and culture. The catalogue is complemented by the "imagined" edition of Slavinja — a newspaper that was not allowed to appear during the pre-March period.
Published by National and University Library (Ljubljana).
Chapters
Supplement: newspaper Slavinja
Downloads
Download data is not yet available.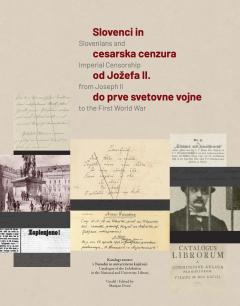 Downloads
Copyright (c) 2023 authors and ZRC SAZU
License
This work is licensed under a Creative Commons Attribution-NonCommercial-NoDerivatives 4.0 International License.
Details about the available publication format: PDF
Publication date (01)
24.05.2023
Details about the available publication format: Knjiga/Book
ISBN-13 (15)
978-961-7091-35-9
Date of first publication (11)
24.05.2023
Physical Dimensions
215 mm x 270 mm
Paperback