Čar izročila. Dediščina Nika Kureta (1906–1995)
In Slovenian ethnology during the second half of the 20th century – that is, the turning period in its modern disciplinary development – academy member Niko Kuret was a figure and researcher to whom ethnology and folklore studies owes many valuable insights. He left us seminal works, touching upon many topics in various genres.
Three levels or perspectives are intertwined in the individual chapters of this book and as a whole: Kuret's personal character and biography; Kuret's paths in the face of various periods, places, politics, and ideologies; and, finally, an evaluation of Kuret's scholarly and professional legacy, taking into account the circumstances he worked in, and especially those outstanding achievements that keep his legacy fresh and relevant in the research of his successors. Today scholars look back at Kuret's findings differently and, because of new knowledge, also critically; at the same time, they continue to reevaluate and develop them. In this way, they mirror both discontinuity and continuity in scholarly traditions. The dialogues between them are especially characteristic of and valuable to the humanities.
This book ('The Magic of Tradition') is divided into three sections. The first part (On Niko Kuret) presents Kuret as a prominent figure and scholar, and as an individual actively involved in various cultural activities – from personal or family perspective to a fellow academy member's respectful perspective; they shed light on Kuret's professional beginnings, the gradual focusing of his ethnological and folkloristic views, his deeply engaged research in Carinthia and his pioneering efforts in paving and conceptualizing visual research. This section includes a reprinted interview, in which Kuret himself outlines and highlights certain decisions and realizations that were fundamental and important for him.
The second part (The Transformation of Tradition in the Festive and Ritual) contains contributions that critically (and at the same time respecting Kuret's research on social and other intangible cultural phenomena) continue and develop the study of topics that Kuret especially focused on. They often take up where Kuret stopped and saw challenges for future research, but did not have the time to focus on them and so left them to younger colleagues. They highlight his perspectives with various degrees of depth and breadth, they focus more on the shades of the social contexts of transforming folk culture and tradition, over both shorter and longer periods of time. They confirm the freshness of Kuret's ideas when they critically address his assumptions and knowledge, and develop them further, especially in reasearching contemporary cultural processes, which demand different scholarly instruments. However, both these general and specific aspects are also echoed in other discoursive forms. The inevitable result is the revaluation or re-thinking of certain basic concepts, such as heritage, (folk) culture, and terminology, which refers not only to the discipline's time, but also the cultural and scholarly spaces, which for Kuret were defined as distinctly European.
A bibliography of Kuret's publications is placed between these two sections as a milestone and bridge. Like any other bibliography, this one is also incomplete, but it reflects the breadth and scope of Kuret's work, and its chronological structure directly documents the changes in his interests over time.
Downloads
Download data is not yet available.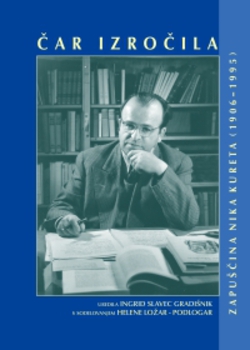 Downloads
Copyright (c) 2008 authors and ZRC SAZU
Details about the available publication format: PDF
Publication date (01)
01.02.2021
Details about the available publication format: Knjiga/Book
ISBN-13 (15)
978-961-254-081-4
Date of first publication (11)
25.09.2008
Physical Dimensions
170 mm x 240 mm
Hardback