Jugovzhodna Slovenija v starejši železni dobi / South-Eastern Slovenia in the Early Iron Age. Poselitev, gospodarstvo, družba / Settlement, economy, society
The territory of present-day Slovenia reached one of its economic and cultural peaks in the 1st millennium BC, when the Hallstatt Culture prospered, its achievements being comparable with the most developed cultures in Ancient Europe. This culture arose from Urnfield Culture roots under the influence of the Mediterranean world; they adopted the new technology of iron production, implemented a new social pattern and fully developed their artistic inspiration.
This important period of prehistory is the topic of the present monograph. The first three chapters deal with the history of research, the methodology and techniques of data acquisition, and a critical discussion of the archaeological sources. The next two chapters discuss the geographic features and characteristics of the region of SE Slovenia, with an explanation of the chronological system used in the research.
The main subject of the monograph is the settlements structures from the Late Bronze Age and the Iron Age including the geographical position and the shape of the settlements, the fortification techniques and the period of occupation. Particular attention was paid to the interior layout of the settlements, the construction of building, and the house equipment. Furthermore, specific features of the settlement pattern, i.e. cemetries and hoards, are also included in the analyses.
The dynamics of the colonization processes throughout the Late Bronze Age, and Early and Late Iron Age are presented in chapter 7. This takes into consideration the characteristics of the settlement patterns, the integration process, the relationship between lowland and upland settlements, and the issue of extra muros settlement, as represented by hamlets and farmsteads in the vicinity of major centres.
The hierarchy of the settlements is defined in chapter 8. All the centres are fully described with maps, plans, and images.
The next chapter is focused on the density of settlement network in relation to natural resources (ore deposits, fertile soil, water sources) and communications, and in fact, to those factors that have a substantial impact on economic subsistence and social power.
The last chapter is dedicated to the social organization and historical turning points, which significantly marked the long-term development of this region.
The catalogue of sites at the end of the book contains 510 records with added ground-plans and bibliographic references.
Downloads
Download data is not yet available.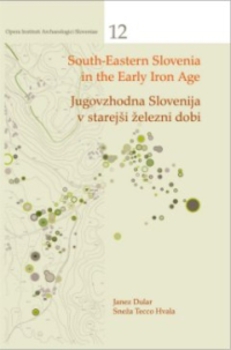 Downloads
Copyright (c) 2007 authors and ZRC SAZU
Details about the available publication format: PDF
Co-publisher's ISBN-13 (24)
978-961-254-523-9
Publication date (01)
09.05.2022
Details about the available publication format: Knjiga/Book
ISBN-13 (15)
978-961-254-000-5
Physical Dimensions
210 mm x 295 mm