Managing Cultural Heritage Sites in Southeastern Europe
The CHERPLAN project (CHERPLAN stands for "Enhancement of Cultural Heritage through Environmental Planning and Management") aims to provide a strong basis for ensuring compatibility and synergy between cultural heritage conservation and socioeconomic growth by fostering the adoption of a modern environmental planning approach throughout southeast Europe (SEE). The aim of environmental planning is to integrate traditional urban/spatial planning with the concerns of environmentalism to ensure sustainable development; when innovatively applied to cultural heritage sites, environmental planning's comprehensive perspective can be regarded as composed of three spheres: the built and historical environment, the socioeconomic and cultural environment, and the biophysical environment.
In this regard, this publication, as one of the results of the CHERPLAN project, addresses vital parts of cultural heritage management. It provides the basic framework defined by the United Nations Educational, Scientific, and Cultural Organization (UNESCO) and the International Council on Monuments and Sites (ICOMOS), and guidelines for twenty specific management issues composed of a thematic introduction, recommendations, and good-practice examples. Thus, the publication provides practical information on the application of environmental planning in SEE, some of it developed within CHERPLAN pilot projects and some of it defined through the experiences of other cultural heritage sites. In both cases, recommendations and good-practice examples present local traditional knowledge and experience that has been developed through successful management practices in the past.
The publication aims to assist cultural heritage site managers in their everyday decisions by supporting them with firm technical knowledge and specific instructions on how to react in a given situation. In this regard, it could support the recently issued World Heritage Resource Manual on Managing Cultural World Heritage, which was published by UNESCO in November 2013.
Downloads
Download data is not yet available.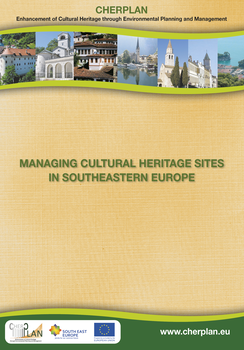 Downloads
Copyright (c) 2014 authors and ZRC SAZU
Details about the available publication format: PDF
ISBN-13 (15)
978-961-05-0367-5
Details about the available publication format: Knjiga/Book
ISBN-13 (15)
978-961-254-707-3
Physical Dimensions
165 mm x 235 mm