Spremljanje in vrednotenje regionalne politike v Sloveniji
The publication "Monitoring and Evaluation of Regional Policy in Slovenia" was prepared on the basis of the Assessment of Instruments and Mechanisms of Regional Policy project intended for designing the systems for the mid-term and final evaluation of Slovenia's regional policy. The project has prepared the basis for monitoring and evaluating the regional policy: we treated the monitoring of the regional policy as an important element in the overall development process because it enables constant supervision of the implementation of the policy and the evaluation of the regional policy as a constant interactive process that enables deliberate planning of activities and their adaptation to changing conditions. We focused on the characteristics of monitoring and evaluation in Slovenia's regional policy and prepared evaluation models that Slovenia's regional policy should follow in the future. Designing the models we drew from the existing Slovenian and European formal-legal frameworks for establishing monitoring and evaluation system in the 2007–2013 financial perspective.
We provide a survey of methodological recommendations by the European Commission for monitoring and evaluation and legal frameworks for monitoring the programming documents. The methodological recommendations of the European Commission are a rich source of knowledge and information for monitoring and evaluation since they are based on experience from the previous programming period and are an upgrading of recommendations from the 2000–2006 financial perspective. Slovenia does not boast such rich experience, but it does have a relatively good legislative framework that needs to be realized in practice. The survey of methodological and legislative frameworks is followed by a presentation of monitoring and evaluation in the Slovenia's regional policy that is basically "divided" into the part implemented in the framework of the cohesion policy and the part financed exclusively from government funds. The conclusion includes the proposal of an approach to monitoring and evaluation and a proposal of elements and phases of the previous, mid-term, and final evaluations of Slovenia's regional policy. An evaluation of standards established in individual international organizations is presented as an additional recommendation for quality monitoring and evaluation.
Downloads
Download data is not yet available.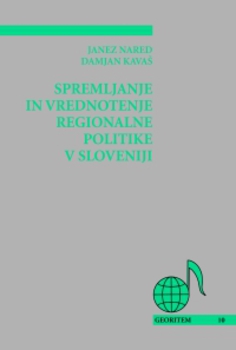 Downloads
Copyright (c) 2009 authors and ZRC SAZU
Details about the available publication format: PDF
ISBN-13 (15)
978-961-254-554-3
Details about the available publication format: Knjiga/Book
ISBN-13 (15)
978-961-254-117-0
Physical Dimensions
145 mm x 205 mm