Rimsko steklo Slovenije / The Roman Glass of Slovenia
The monograph Roman Glass of Slovenia, differs only in minor details from the doctoral dissertation of the author. The first part is dedicated to the typological and chronological presentation of the Roman glass (1st–5th cent.) from the territory of modern Slovenia; the second one is a presentation and review of local glass production in the Roman period on Slovene territory.
The introduction represents the terminology that is used and glass making techinques, along with results of the most resent research. The products are first classified into three major groups based on the techique of manufacture (vessels made in a mould, mould-blown vessels, free-blown vessels). The material is further classified into ten groups of vessels according to their use. The dating of individual forms was wherever possible determined on the basis of grave units and other dated contexts from Slovenian sites.
Local glass industry existed in Roman period on the territory of modern Slovenia from the 2nd century onwards and lasted, as proved by the finds from Celeia and Poetovio, through the 2nd and 3rd century. The most extensive discoveries are known from Poetovio, where the proofs of glass production are known from different parts of the town (Hajdina, Rabelčja vas, Panorama).
The remains of six glass furnaces and glass waste prove the existence of glass production and enable the reconstruction of the appearance of the glass furnaces. Judging from the remains of the glass products, the furnaces in Ptuj must have operated in the 2nd and 3rd centuries.
Parallel bilingual Slovene-English edition.
Downloads
Download data is not yet available.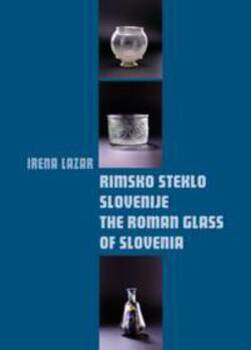 Downloads
Copyright (c) 2003 authors and ZRC SAZU
Details about the available publication format: PDF
ISBN-13 (15)
978-961-05-0315-6
Details about the available publication format: Knjiga/Book
ISBN-13 (15)
961-6500-18-X
Physical Dimensions
210 mm x 295 mm
Hardback