Prostor, regija, razvoj
Knjiga odpira številna vprašanja, pomembna za izvajanje regionalne politike in zagotavljanje skladnega regionalnega in prostorskega razvoja. Pri tem raznolike vsebine, kot so spremljanje in vrednotenje, procesi na področju urbanega razvoja, stanje na stanovanjskem trgu, ustvarjalni ljudje, kreativna in kulturna industrija, upoštevanje naravnih posebnosti pri načrtovanju regionalnega in prostorskega razvoja, nakazujejo na razsežnost problematike in medsebojno prepletenost pojavov. Ne slepimo se, da so v knjigi skriti vsi odgovori na aktualna vprašanja, smo pa prepričani, da predstavlja pomemben prispevek k trajnostnemu razvoju z rezultati analiz, novimi metodološkimi prijemi ali z nasveti, kako naj regionalna in prostorska politika delujeta v naprej. Prav tako posamezna poglavja nakazujejo, kako bi k trajnostnemu regionalnemu in prostorskemu razvoju lahko pristopili bolj celovito, upoštevaje vse vidike razvoja ter poznavajoč stanje in smernice. Za to so tovrstne raziskave potrebne tudi v bodoče, pri čemer je treba težiti k čim večji sistematičnosti raziskav, njihovemu medsebojnemu dopolnjevanju ter tudi njihovi praktični usmerjenosti.
The book Prostor, regija, razvoj ('Space, region, development') deals with numerous issues, relevant for regional policy and sustainable regional and spatial development. The fields addressed, like monitoring and evaluation, processes of urban development, situation on the real estate market, creative class, creative industry, cultural industry, and natural conditions as a factor of spatial and regional development, show the diversity and complexity of the processes taking place in space and regions. From this perspective our ambition is not to solve all the crucial issues at one time, but to contribute to spatial and regional policy with selected studies, methodological approaches and policy recommendations. The chapters pave the way to integrated spatial and regional development, bearing in mind complexity of the field and knowing the most recent analyses. In order to support decision-making with the adequate knowledge, comprehensive studies should be further supported and later used in the policy making processes.
Downloads
Download data is not yet available.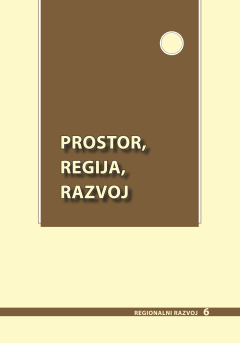 Downloads
Copyright (c) 2017 authors and ZRC SAZU
Details about the available publication format: PDF
ISBN-13 (15)
978-961-05-0035-3
Details about the available publication format: Knjiga/Book
ISBN-13 (15)
978-961-05-0034-6
Physical Dimensions
165 mm x 235 mm
Paperback