Snežna sezona 2012/2013 v Sloveniji
Slovenia is also among the countries which are endangered by avalanches. They cause on a yearly average 1–2 victims, mainly in the highlands. Once, the victims were mostly locals, but within the last decades, it is now predominantly mountaineers. To avoid avalanche accidents, prevention measurements are very important. Their consistent part is also the flashback of each snow season. Since there is no avalanche service in Slovenia - its annual task is also the preparation of such an overview, we decided do it within the frame of a project NH-WF/Natural Hazards without Frontiers. In this, between years 2012 and 2014, we regularly prepared and published an experimental local avalanche bulletin for Middle Karavanks (northern Slovenia). Along with the work on this bulletin, we realized, how important cooperation is between the different stakeholders within the field of avalanche protection. This edition is the first complete overview of avalanche events and incidents in the snow season – from a weather review, through all the overall characteristics of snow seasons and avalanche events, as well as a methodically unified analysis of all fatal incidents. We added, at the end, a reflection about the season, made by an avalanche practitioner and a short presentation of a NH-WF project.
Downloads
Download data is not yet available.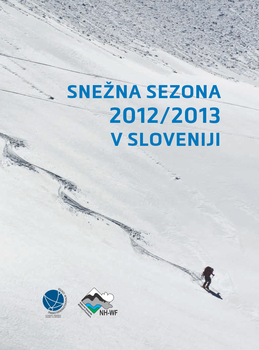 Downloads
Copyright (c) 2014 authors and ZRC SAZU
Details about the available publication format: PDF
ISBN-13 (15)
978-961-254-696-0