From Dreams Of 'A Second Switzerland' To Capitalism Without A Human Face. The Path of Economic Independence and Slovenian Economic Transition
Three decades of an independent state are certainly a long enough period to give an opinion on the transition process, which formally ended with the country's accession to the EU, even from a historical point of view. Until its formal conclusion, the Slovenian economic transition was described primarily as a story of success, but the period after 2004 was marked by everything but positive opinions and assessments. The book discusses the central processes of economic transition, which changed Slovenia's economic structure, strengthening and modernizing it to such an extent that the country was able to catch up with the developed world much more quickly. The aims of the author's historical search and inquiry are the path to transition, Slovenia's entry into various international integrations, macroeconomic stabilization, privatization, and economic restructuring. He also sheds light on the issue of regional development and identifies the reasons why the intended reduction of interregional disparities did not take place in the period under examination. Special attention is paid to economic crime, which caused enormous financial damage to citizens, companies, and the state as a whole. In a substantiated narrative, the author also presents the characteristics and achievements of the process of economic transformation in Croatia, Serbia, the Czech Republic, Hungary, and Poland.
Copublished by Inštitut za novejšo zgodovino and Slovenska matica.
Downloads
Download data is not yet available.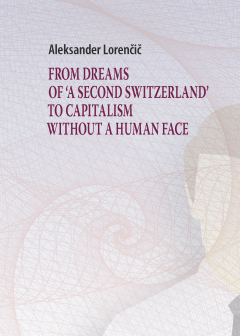 Downloads
Copyright (c) 2021 authors and ZRC SAZU
Details about the available publication format: PDF
ISBN-13 (15)
978-961-05-0570-9
Publication date (01)
07.10.2021
Details about the available publication format: Knjiga/Book
ISBN-13 (15)
978-961-05-0569-3
Date of first publication (11)
28.10.2021
Physical Dimensions
168 mm x 235 mm
Hardback